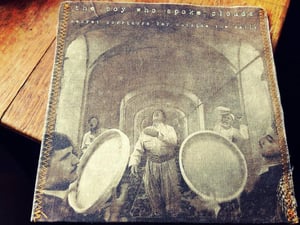 $

15.00
Packaged in a hand cut, printed and sewn cloth-bound sleeve.
Limited to 100 copies.
The Boy Who Spoke Clouds, moniker of Melbourne, Australia's Adam Casey, releases the official follow up to his 2009 self-titled debut, entitled 'Secret Corridors Lay Outside the Walls'.
'Secret Corridors Lay Outside the Walls' showcases an improvised live performance which was captured by an old ¼" reel-to-reel machine in Adam's home studio, 'The True Vine' The album follows a pilgrim's journey to spiritual communion. It abstractly tracks spiritual communion, and simultaneously, is about enacting that very same communion in performance so that there is a strong synchronicity between the theme and its expression.
Digital Download and Physical Copies also available at the NWR Bandcamp:
http://naturalworldrecords.bandcamp.com/